| | |
| --- | --- |
| | Season Four is the final season of theThe CW's musical comedy show "Crazy Ex-Girlfriend". Co-creators Aline Brosh McKenna and Rachel Bloom envisioned this as the final arc in the four-part story [1]. The Season Four renewal was officially announced on April 2, 2018 [2]. The 18-episode final season is set to premiere later this year on October 12. |
Production
Edit
On April 2, 2018 Crazy Ex-Girlfriend was reported as having been renewed on several media outlets such as Deadline [3] and Variety [4]. Co-creator Rachel Bloom reiterated that Season Four would be the end of the show and narratively conclude the story arc started in Season One [5]. While the two previous seasons saw the episode count reduced to 13 five more episodes were added for a total of 18 in Season Four [6].
It was announced on August 6, 2018 that actor Skylar Astin ("Pitch Perfect") was cast in the role of the returning character Greg Serrano [7] formerly played by Santino Fontana in Seasons one and two. According to Rachel Bloom: "We are going to be playing a lot with the ideas and themes of perception, how he sees her, how other people see each other." Fontana was approached to reprise his role [8] but instead committed to play the lead in a Broadway production of "Tootsie." [9]. He did offer his support and approved the choice of his replacement stating he and Astin were friends [10]. Astin had previously worked alongside "Crazy Ex-Girlfriend" series regular and show writer Rene Gube on the TBS sitcom "Ground Floor." Greg will appear in the 8th episode. [11]
On August 1 Rachel Bloom announced on her Instagram account [12] that co-creator Aline Brosh McKenna would be the first guest star on the show. Actor/comedian Patton Oswalt revealed his return to the show after a brief cameo in Season Two. According to a tweet he posted [13] he will be performing a musical number this time. Another returning character is Brody (played by Benjamin Seimon) who was confirmed in a TV Line interview with McKenna and Bloom [14].
On August 16, co-creator Aline Brosh McKenna tweeted [15] an open invitation for celebrity fans of the show to appear for its final season. Actors such as Mo Rocco and Bradley Whitfield have expressed an interest. On September 3, it was revealed that Nia Verdalos "will play Wendy, a long-term, high-powered client of Rebecca's who is surprised by a recent turn of events in Rebecca's life. "Wendy is a really amazing businesswoman who comes to Whitefeather and is really, really underwhelmed by the performances of anyone who isn't Rebecca," co-creator Rachel Bloom says. "Nia takes her to a whole other level. That was a brilliant stroke of casting that was Aline's idea and it's just perfect." [16] On August 26, Tan France announced that he will guest star in an episode set to air in November. [17]
| | |
| --- | --- |
| On May 21, 2018 Rachel Bloom announced on her Instagram [18] that the writers room was open and production officially started on Season Four. The staff consists of co-creators Bloom and Aline Brosh McKenna with returning writers Dan Gregor and Doug Mand, Sono Patel, Rene Gube, Michael Hitchcock, Rachel Specter and Audrey Wauchope, Elisabeth Kiernan Averick, Erin Ehrlich, Jack Dolgen and Ilana Peña. McKenna also announced via her Twitter account the names of female directors who would be working on the show. This included herself, the return of Erin Erlich and Jude Weng, debuting directors Audrey Wauchope with Rachel Specter, Rachel Bloom and Carrie Brownstein [19]. | |
Episode titles
Edit
| | |
| --- | --- |
| On July 25, a screenshot of the script for the first episode was posted on Instagram [20]. The title was revealed to be "I Want To Be Here" and follows the tradition of specific naming conventions for the series episodes. Unlike previous seasons the title has word "I" in the place of a male love interest name and there is a lack of punctuation. | |
Rachel Bloom performed the new opening theme for Season Four at the 2018 San Diego's Comic Con. She described it in an interview with Showbiz Junkies [21]:
"I actually sang it at Comic Con, our Comic Con panel, and it is kind of an almost like 1970s, 1980s typical sitcom opener, including a clip show with the kind of song sounds like a mix of a sitcom opening and not like a spearmint a Doublemint gum commercial. And, really, the essence of it is how it's hard to boil someone down into a single theme song. We actually have an element of the theme song that you will see will be changing every episode, which will be very exciting for fans."
A "cell block tango number" has been confirmed by Rachel Bloom in an interview with TV Line [22].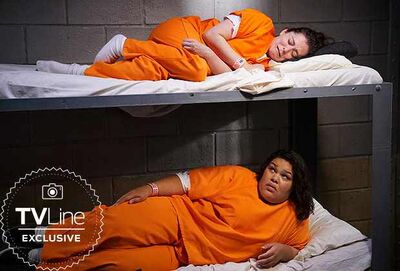 References
Edit